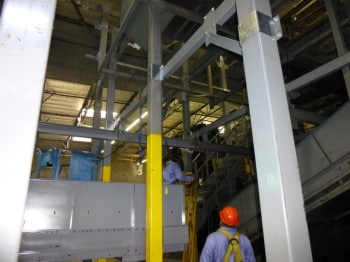 FOR HIRE, Southwest Region:
We have our own in house, experienced technicians to address all aspects of your installation
To accommodate your production schedule, we can create modified installation phase schedules and critical shutdowns.
A project manager is assigned to each project to insure material delivery and labor resources are on site on schedule.
We understand the value of keeping the client informed of all aspects of the project progress, and we strive to stay ahead of schedule.
We are licensed and insured in the state of California.
As part of Ingalls Conveyors Safety Program, all our employees are required to go through a monthly training process. This training is required to ensure our employees are moving towards a safe work place and a safe installation.
Please call 1-800-826-4554 or email info@nullingallsconveyors.com to contact one of our engineering staff members about your specific mechanical installation requirements.